The inability to capture moments of the past in photographs makes them priceless.
Back then, people took pictures of something special, not just random angles, poses, or flower bouquets that appeared in the house.
Black and white photographs allow us to get closer to how people lived in the past: what was ordinary and what was still strange.
We search for eccentrics in our modern times, but today's photographs will show that there were many of them in the past as well.
Once again, a section about unusual pets – a snake on a leash, 1937

This American burlesque dancer, known as Zorita, not only holds a snake but also dances with pythons.
That's how she became famous in her time.
A peanut seller drawing attention to his goods. The seller's costume is entirely made of peanuts, 1890

Water skiing is not only a means of transportation but also entertainment for witches, 1950s

The photograph captures a water show at Cypress Gardens (now Legoland FL).
Spectators could watch the show from the shore or from a boat on the opposite side of the lake.
A bicycle that can be ridden by the whole family, 1939

But the design doesn't look very safe.
The 37th President of the United States, Richard Nixon, in a photo with RoboCop

Judging by his facial expression, it seems to be the happiest meeting of his life.
The first Michelin mascot looks quite different from the modern one, 1898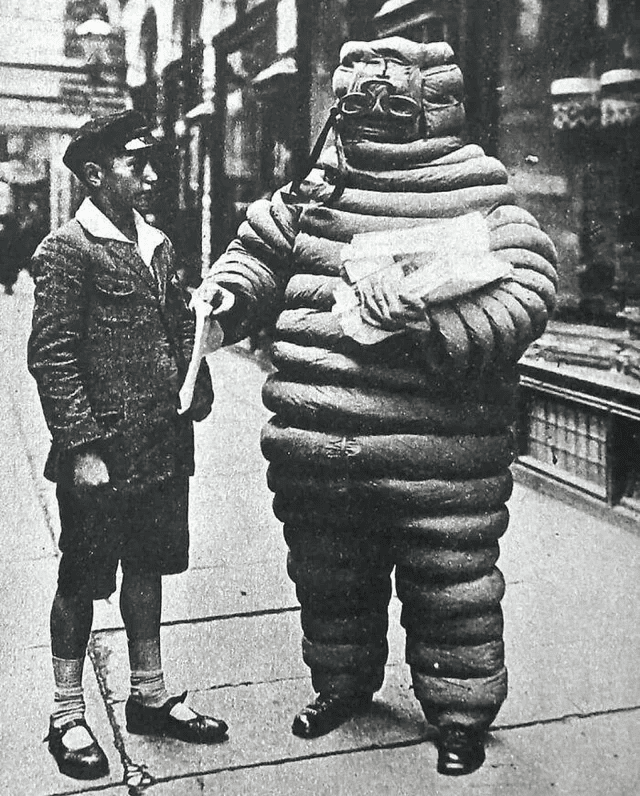 Easter meeting, 1926

The girl who won the «Miss Dangerous Brakes» contest, 1939

Many were surprised by such an unusual contest.
But the thing is, at that time, anyone who wanted to could organize such contests, and the girls gladly participated.
Why? It remains a mystery.
It seems that strange and not very successful hairstyles have always been fashionable, 1894

A 17-year-old boy, his scooter, 34 rear-view mirrors, and 81 headlights, 1983

Who would have thought that until this moment, no one had seen a more extravagant teenager?
Fertilizer advertisement featuring models, 1956

Architects at a ball, trying on costumes shaped like the buildings they designed themselves, 1931

In such a spacesuit, one could explore the Moon, 1960

And once again, the Michelin mascots, this time in a group.
They perform at the opening of the «Michelin Hour» radio show, 1928
***

Someone might ask why costumes were needed for a radio show.
But if there were no costumes, this photo wouldn't exist either.
One of the ways to combat depression at that time, 1937

Later, it became clear that such a method was ineffective, but back then, it

Goodness and Positivity to everyone =)